Troubleshoot Ip Address conflict
When you try to connect to the Internet, you may get a message indicating an IP address conflict or the connection constantly fails. This is probably because two computers on the same network are trying to get the same IP address. In fact, most routers are configured for DHCP, ie distribute IP addresses automatically. If for some reason, you need a fixed IP address on one of the computers in the network, DHCP can try to assign this IP address to another one, causing this problem.
How to troubleshoot IP address conflict
Windows
To resolve this issue, click Start> Control Panel> Network Connections.
Then right click on the connection in problems and select Properties. In the window that opens, select Internet Protocol (TCP / IP) and click Properties. If the 'Obtain an IP address automatically' box is checked, but you still have problems, check the Use the following IP address box.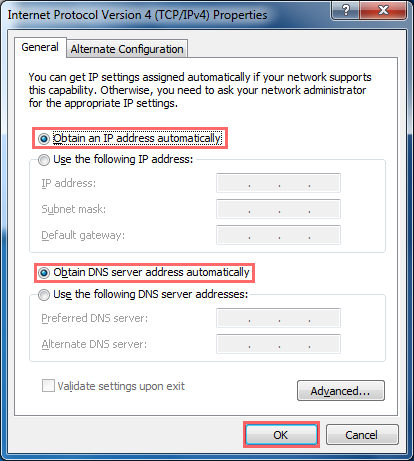 Enter, for example:
IP address = 192.168.1.15 (or any other address between 192.168.0.10 and 192.168.0.19 preferably, since the routers are configured by default in this range).
Subnet Mask = 255.255.255.0
Default gateway = 192.168.0.1
Linux
In Ubuntu 16.04 right click on the connection icon and then 'Edit Connections' and then choose the connection you want to edit:
Click on the Method, choose Manual, and then click Add Button and Enter, for example:
Address = 192.168.1.15 (or any other address between 192.168.0.10 and 192.168.0.19 preferably, since the routers are configured by default in this range). Netmask = 255.255.255.0. Gateway = 192.168.0.1
Tags:
troubleshoot
Windows
ip address conflict
Comments